SSRC February Update 2020
Team matches
We have two teams in the winter squash leagues, the Mixed First team and a Vets team. The matches are colour coordinated on the booking system on Thursday evenings. Please come and support, it is always good to get a crowd watching and some of the games are (arguably) very entertaining.
Vets Matches:
20/02/20 – Coolhurst
19/03/20 – Finchley Manor
30/04/20 – Darwin Northwood
First Team:
05/03/20 SSRC v Uxbridge
19/03/20 SSCR v Darwin Northwood
Darts Match
The inaugural darts match v the Southgate Rugby team took place a couple of Fridays ago ending in an honourable draw! The standard of darts was questionable but was great fun, thank your to all the players. Next match to be advised watch this space.
SSRC Squash tournaments
The sign up sheets for the tournaments are going up soon – finals night provisionally 16th May. Keep your eyes peeled for the sign up forms and announcements.
Upcoming events
Touch rugby 7s Tournament
7th March 2020

SSRC will be putting a team into the Southgate RFC sevens tournament see flyer, sign up sheet will be on the board in aid of a good cause.
Court usage
Our membership numbers are going up so remember to plan ahead and book your preferred times, as a member you can book up to 6 weeks in advance.
Leagues
Make sure you get your bonus points by playing all of your games.
If you want to join the leagues or leave them, please advise Jas by 16th December when the current league ends.
Weekly Training sessions

| | | | |
| --- | --- | --- | --- |
| Day | Time | Group | Coach |
| Monday | 5.30pm – 6.30pm | Juniors - all levels | Lucas |
| Monday | 7.15pm – 8.15pm | Adult Training | Lucas |
| Wednesday | 8.30pm – 9.30pm | Racketball Training | Lucas |
| Thursday | 4.30pm – 5.30pm | Juniors 7-11yrs | Tawanda |
| Thursday | 5.30pm – 6.20pm | Juniors 11yrs+, beginners | Tawanda |
| Thursday | 6.25pm – 7.15pm | Juniors 11yrs+, intermediate | Tawanda |
| Thursday | 7.15pm – 8pm | Ladies only - beginners | Tawanda/Margot |
| Thursday | 8pm – 8.45pm | Ladies only - intermediates | Tawanda/Margot |
| Saturday | 1.15pm – 2pm | Tots 2-6 yrs | Tawanda |
| Saturday | 2pm – 3pm | Juniors 7-11yrs | Tawanda |
| Saturday | 3pm – 4pm | Juniors 11yrs+ | Tawanda |
| Saturday | 4pm – 5pm | Juniors Intermediate | Tawanda |
Advance squash training on Mondays
Want to improve your technique or beat your nemesis?
Come along and be pushed by your peers and the coach.
Fun training for the players who are looking to improve starts at 1915-2015.
There is also whatsapp group to see what is going on please ask for details on how to join this.
Racketball training on Wednesdays 2000-2100
There are players of all abilities playing so please give it a try.
There is also whatsapp group to see what is going on please ask for details on how to join this.
Racketball Morning on Thursday mornings 09:30-11:00
Come along for social and fun Racketball. £2 for members and £3.50 for non-members. Please pop into the office to pay. No booking required.
Junior sessions for 2020
Adult Squash Tournaments
There are many competitions that are available to enter – please ask if you would like to know more.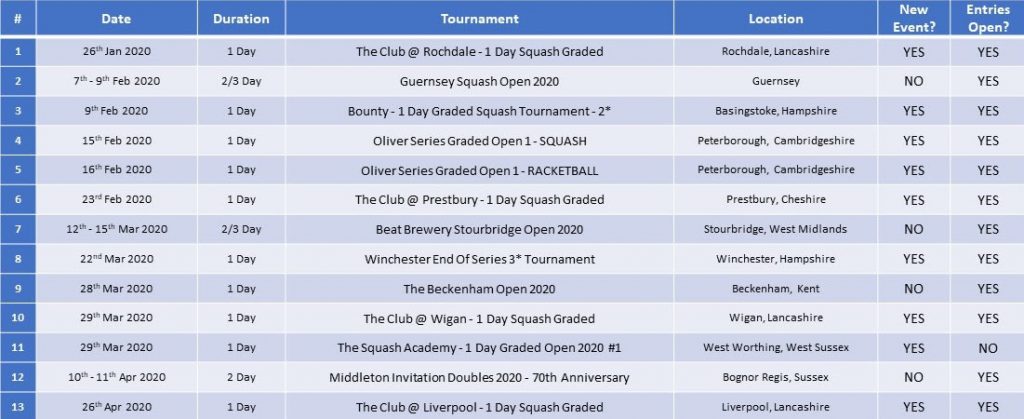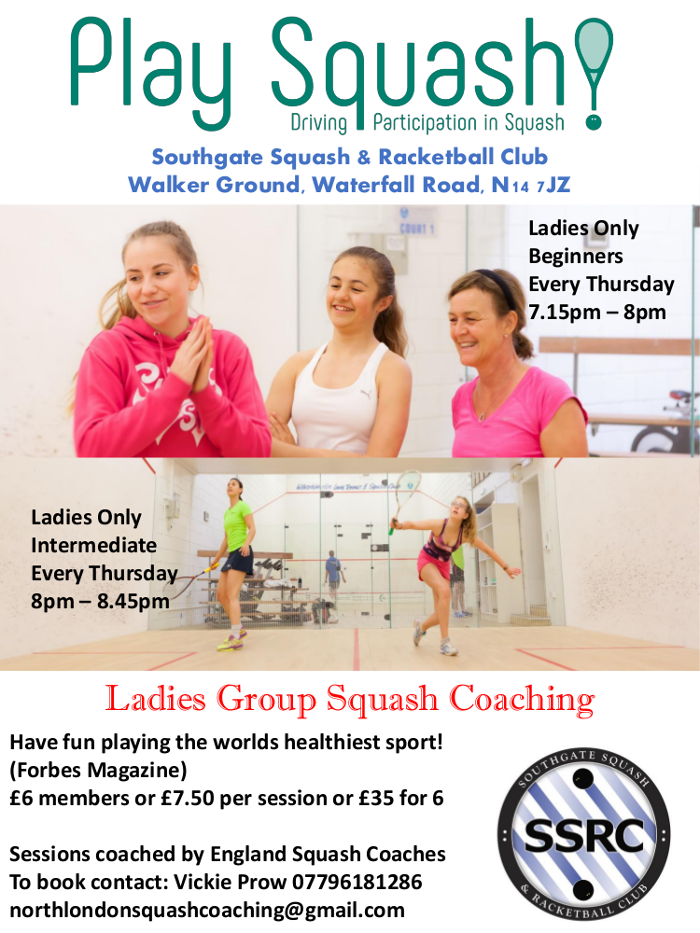 Southgate Copper tournament
Well done to the Middlesex juniors team on running the tournament last weekend at the club.
Well done to our members Alexander Loa-Wing (BU11) and Max Cutner (BU17) for winning Gold.
Also well done to Zoe Cutner (GU15) and Sameerah Korimbocus (GU17) for winning Bronze.
Click here for more details
Club nights Monday at 2000-2130
10/02/20 – Simon Carman
17/02/20 – Steve
24/02/20 – Nick
02/03/20 – Neil
09/03/20 – David
Quiz Night – Tuesdays at 2030
11/02/20 – Neil C
18/02/20 – Zoe (and Sophie)
25/02/20 – Ade
03/03/20 – Sarah
10/03/20 – Debbie
Function Room Hire
Discounts available for members. Contact Jas for more information.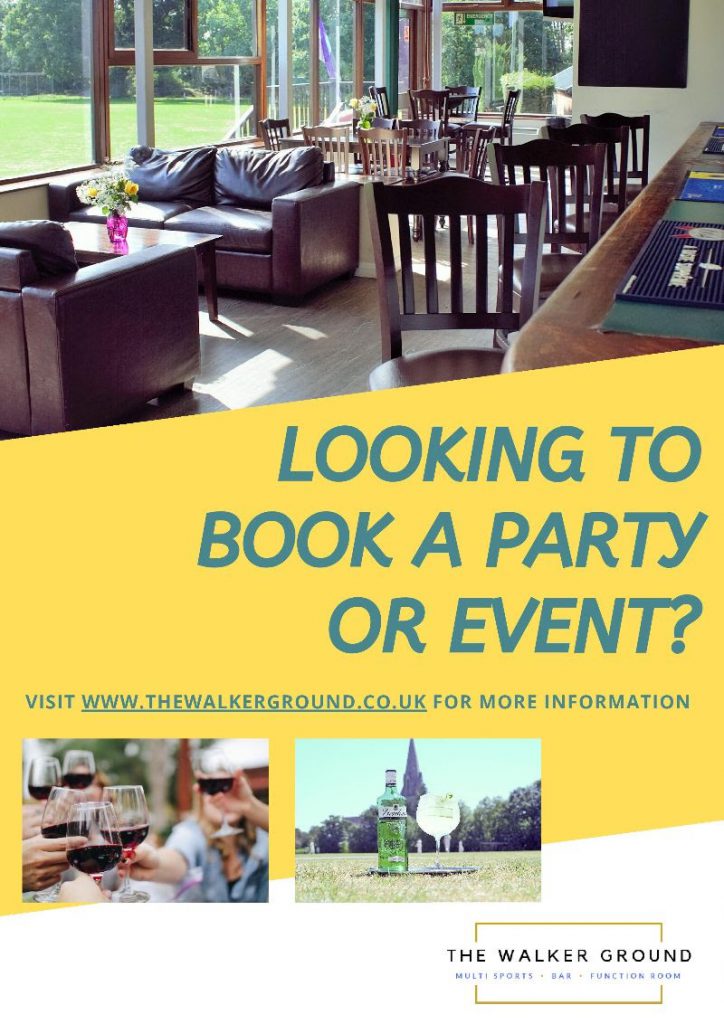 Bar Opening Hours
Monday to Friday – 5pm – 10:30pm
Saturday – 12pm until 10:30pm*
Sunday (Winter) – 12pm until 8pm*
*subject to demand/functions
England Squash Membership
Part of your membership fee is to pay for your England Squash membership which give you various benefits including medical insurance against injuries while playing squash. Please take the time to register. It is definitely worth it!
Club maintenance and Cleanliness
The general manager and her team are keen to keep the ground and facilities working and looking fantastic.
If you ever see anything that needs fixing from the toilets, showers, court heating, a floor board to a light or a clock not working please email: maintenance@thewalkerground.co.uk if you see people playing in dirty or marking shoes please advise them to stop or point this out to the office.
If you see anyone altering the heating controls on courts please report this as firstly this messes up the system and secondly ends up with a waste of gas and electricity.
The Walker Ground Trust
If you love the ground and have some spare time we are looking for more trustees to help oversee the running of the ground for the future.
If you would like to help please make contact with the Chair of the Trust – Alan May