We are pleased to say that as from Monday 12th April we can continue the gradual re-opening of the Walker Ground as per the Government's road map.
Our squash courts will also open again as from Monday. The first court will be 11.00am and the last court will be 7.15pm.
Squash courts can open for use by individuals or same household groups
– Adults – solo practice or same household squash
– U18's – organised (coach/club led) out of school settings activities for up to 15 players
– One-to-one coaching for adults
– members only
Full guidance is available on the England Squash website.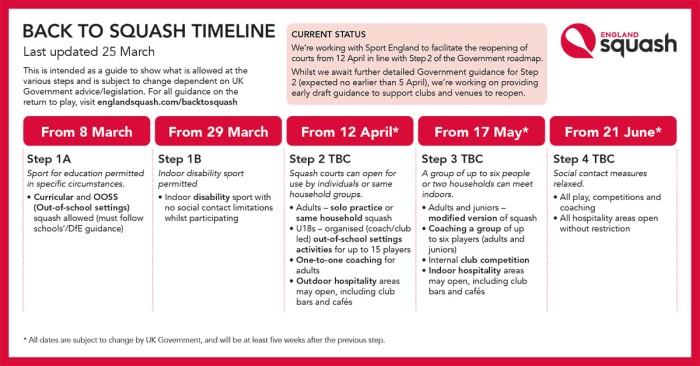 The Walker Bar

The Walker Bar will reopen on Thursday 15th April and will open from 5.30-8.30pm. Initially the bar will only open on Thursday's through to Sunday. This will be kept under constant review by the Trust.
Bar opening and closing times:
Thursday and Friday – 5.30pm – 8.30pm. Saturday and Sunday – 12.00 – 8.30pm
Drinks and food (our caterer Smoky Okey will be serving food) can only be served outside on the Pavilion patio. The rule of 6 applies and it is table service only.
Thank you for your continued support, as we continue to work through these very difficult times.
Stay safe